40. THE WORLD'S FASTEST CAR (Bloodhound SSC)
What will soon be the fastest car in the world isn't in NASCAR or Formula racing or even in a Fast and Furious movie. By 2013, the world's fastest car will be the Bloodhound SSC. The goal: 1,000 m.p.h. (1,609 km/h) — nearly Mach 1.4 at sea level. The current record of 763 m.p.h. was set in 1997 by the Thrust SSC, driven by Andy Green, who is also slated to helm the Bloodhound. The Bloodhound has both an EJ200 jet engine and a hybrid Falcon rocket engine, the combined power of which will enable the 7-ton car to reach 1,000 m.p.h. in only 42 seconds. Project director Richard Noble is relying on contributions from corporate sponsors and individuals to fund the car's development.
Logo

Specifications

<![if !vml]><![endif]>

Predecessor

Thrust SSC

Class

Land speed record vehicle

Engine

Rolls-Royce Eurojet EJ200 afterburning turbofan, Falcon HTP rocket, Cosworth CA2010 Formula 1 race engine (APU)

Vehicle's image

Dimensions

Length: 13.5 m (44 ft), Width: 1.9 m (6.2 ft)

Kerb weight

6,422 kg (14,160 lb) (fuelled)
Bloodhound SSC is the name of a project aiming to break the land speed record with a pencil-shaped car powered by a jet engine and a rocket designed to reach approximately 1,000 miles per hour (1,609 km/h). It is being developed and built with the intention of breaking the land speed record by the largest ever margin.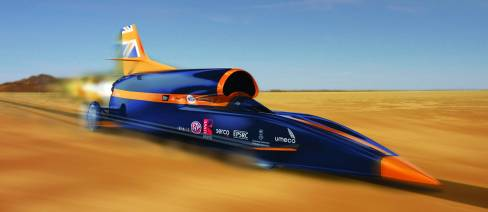 If £10 million of sponsorship funding is obtained the construction should be complete by the end of 2012 and the record attempts should take place in early 2013.